Guide To UCAT: What You Need To Know
The test is completed online and is divided into 5 sections- we will signpost you to in-depth information about these below:
Who needs to sit the UCAT ?
Medical students applying for universities within the UCAT  Consortium will be required to sit the UCAT. UCAT Australia & New Zealand has set several eligibility criteria to try to make the application process transparent and fair.
As an international student or postgraduate, it is unlikely you will be required to sit the UCAT. For university-specific information consult the websites of the universities you are applying for.
You may be required to sit other exams such as the GAMSAT or ISAT for universities like Deakin University and Flinders University (here are universities that use the GAMSAT and ISAT).
Which universities require the UCAT?
To apply to any of the Australian and New Zealand Consortium universities, UCAT is a compulsory requirement. The vast majority of direct undergraduate universities require the UCAT with the exceptions of James Cook, Bond and The University of Sydney. These have their own entry systems.
If you score poorly on the UCAT it may be worth considering a strategic application to these Universities which may weigh other factors such as your ATAR more highly.
To learn more about ANZ Medical Schools and their individual UCAT usage, read on for our comprehensive guide on How to choose your ANZ Medical School.
As it is a computer-based test, the UCAT exam is sat at a Pearson Vue Test centre. There is a range of locations with test centres in both capital cities and regional areas.
The easiest way to find test centres is through the booking system. You will be directed to a page titled " Test Centre Search". Use the "search" field to find test centres within your area.
In addition, there is a number of overseas test centres. An extensive list of locations where the UCAT can be sat can be found on the UCAT official website.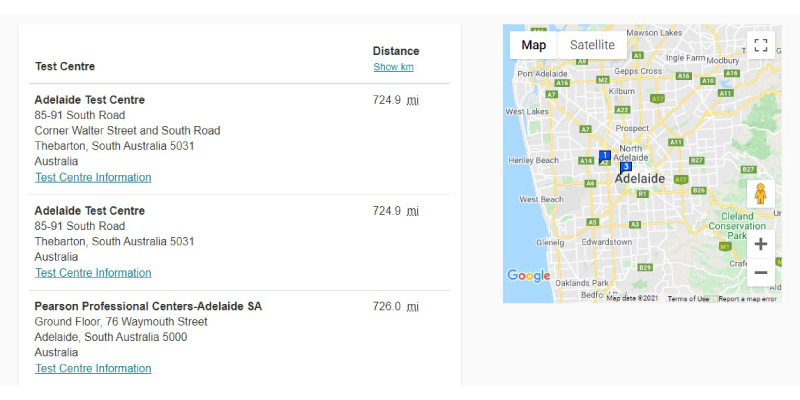 How to register for the UCAT
Students are expected to independently register for the UCAT. It is not permitted for schools to register you on your behalf. In order to register for the UCAT visit the UCAT official website which will take you through the steps to generate a UCAT  ID number.
Ensure you use your legal name which matches your ID and application. You will be required to fill out a series of questions in order to create a Pearson VUE account. An email confirmation will be sent within 24 hours, this contains the required password to book your test.
By registering in early March, it provides ample opportunity to decide from a variety of dates, times and locations to sit your test.
As part of the registration process, you will have created a Pearson VUE account. Once logged in, you will be directed to a dashboard. Select " UCAT".
You will be advised to select 3 test centres in your area which you will be able to compare space availability.
Next, you are required to choose an appointment. If no test dates appear it suggests this centre has reached capacity and you will need to select an alternative centre. It is advised you check and note down your appointment details before proceeding to checkout.
Payment details will need to be completed and a policy agreement signed. Select submit order. Check your emails for a confirmation email. Information about the details of your booking can be found under the "My Appointments" tab in the dashboard of your Pearson VUE account.
Note:
Under no circumstances will late registrations be considered.
Ensure you take responsibility to register and book your own test so that if you encounter any technical errors these can be addressed before the deadline. 
Late booking will incur additional fees and beyond the later booking date, no further bookings will be accepted.
How much does it cost to sit the UCAT?
It is important to note that taking the UCAT test is not free, there is a fee which is set by the UCAT company. This covers payment to test centres and to question designers. If for some reason you are unable to attend, it is likely that you will lose your money and have to repay when rebooking the exam.
The test fee will be paid during the booking process and is payable by major debit/credit card or UCAT bursary voucher:
| Category | Cost |
| --- | --- |
| Tests taken in Australia or New Zealand | $305 |
| – Concession Fee( Australia only) | $199 |
| Tests taken overseas | $380 |
| Late Fee | $85 |
| Refund Feeds | 15% of total test fees deducted |
When booking your exam, information can be found by selecting "view Testing Policies." under the Exam Details tab.
Australian candidates with a current Health Care Card or Centrelink issued Pensioner Concession Card are eligible for reduced fees under the Concession Scheme. You will receive a concession voucher which will make you eligible for this.
How to prepare for the UCAT
Effective study strategies will save you time and contribute to a boosted test score. Spend time practising questions that you find more difficult, learn time-saving techniques and implement strategic approaches.
We have a UCAT Top Tip Guide which covers effective UCAT preparation in-depth here. 
Our UCAT Bundle provides you with the finest preparation support you need to maximise your UCAT score. You will have a place booked on our Crash Course led by experienced medical school instructors who teach you the best strategies, gain access to thousands of practice questions and some mock papers and receive a UCAT Workbook to complement your revision and much much more…
What to expect on the day of your UCAT?
On the day of the exam, you should expect formal exam conditions. If you have any queries or concerns on the test day consult an invigilator or staff member. Any queries prior to the exam day contact Pearson Vue Customer Services. The day will run as follows:
Arrival:
You will be expected to arrive approximately 30 minutes prior to your appointment to allow time to check-in. Students arriving at the test centres 15 minutes late after their appointment time will not be permitted to take the test on this occasion.
Check-in process:
1). Your ID will be checked by a member of staff and a digital photograph taken. UCAT has the following identification and documentation requirements:
A printed or electronic copy of your appointment confirmation email/ appointment details in your Pearson Vue Account. (Name must exactly match ID).
Original photographic ID: Passport, Drivers License, Australian Keypass Card, Australian Proof of Age Card, New Zealand 18+/ Kiwi Access Card
2). Read and sign the UCAT Examination Rules.
3). You will be directed to a locker to put all your personal belongings in. Staff will visually inspect your clothing/hands/arms and any comfort aids to ensure all non-permitted items have been removed.
Sitting the Test:
You will be directed to the test room and your allocated desk. Each desk space will be equipped with a PC and keyboard, laminated notebook and marker pen.
Enter the exam room in exam conditions being respectful and mindful to other people sitting exams with different start and end times.
Finishing the Exam:
Raise your hand to indicate you have finished. You will be escorted from the room by an invigilator who will end the test on your screen.
Relax:
Once you have finished your UCAT exam you are likely to feel as if a weight has been lifted off your shoulders. Ensure you schedule some much-needed downtime rather than jumping straight back to your academic studies.
UCAT recognises that many students sitting the exam may have additional special educational needs, disabilities or medical conditions.
Akin to other exam boards UCAT have a number of access arrangement policies that ensure accommodation and extra time for eligible individuals.
These students are required to provide documentation referencing their needs and must have arrangements approved before booking the test.
UCATSEN is an extended version of the test where students are given 25% extra time. Their total examination time will be 150 minutes.
Year on year the key dates for booking, registration and examination will vary so be wary, but this is the usual UCAT timeframe:
| Key Dates | Dates |
| --- | --- |
| Access Arrangement application and Concession Schemes open | Early Feb |
| Test booking opens | Early March |
| Access Arrangement application and Concession application close | Mid May |
| Final Booking deadline | Mid May |
| Late booking deadline | Late May |
| Cancellation deadline | Early June |
| Testing begins | Early July |
| Last testing Date | Mid August |
| Results delivered to universities | Early September |
Recommended UCAT booking date and why
Allow ample time to prepare for your UCAT test. Consider personal commitments and how this may impact your ability to adequately prepare. Throughout July you may have work placements, work or extracurricular activities, consider how these will impact your preparation.
Sitting the exam early will give you more time to research how you can use your score beneficially when applying. Also, note that not all test centres are open for the whole month.
Ability to comprehend and understand passages, assessing your reasoning and logic skills.
44 Questions 
1 minute instruction section, 21 minutes test time
Ability to strategically think, deal with question ambiguity and process new information.
29 Questions
1 minute instruction section, 31 minutes test time
Ability to apply basic mathematic skills to real-world quantitative information.
36 Questions
1 minute instruction section, 24 minute test time
Ability to identify logical patterns using inductive and diagrammatic reasoning.
55 Questions 
1 minute instruction section, 13 minutes test time
Ability to act professionally and ethically assessing your ability to choose the most appropriate action in workplace scenarios.
69 Questions
1 minute instruction section, 26 minutes test time
The sum of your marks from the 164 questions within all the sections that accept situational judgement will represent your final result.
As your raw marks will not be weighted evenly between the subsections a converted scale is used. The scale Score Range for each subtest is between 300-900 with the total score range from 1200 to 3600. Within VR, QR and AR each question is worth 1 mark. Decision making questions may be worth 1 or 2 marks where partially correct answers receive the former.
The Situational Judgement section is graded between 300-900 independently. Correct answers are awarded full marks and partial marks are awarded for answers closer to the correct response.
Still unsure? For more information on UCAT scoring and marking, we have a detailed guide here. 
Expect to receive your results by email within 24 hours of sitting your test. Emails will be sent from the Pearson VUE however your score can also be accessed on your Pearson Vue account under UCAT Score Report.
Results are automatically communicated to your universities by UCAT Consortium. Universities will receive your results by early September.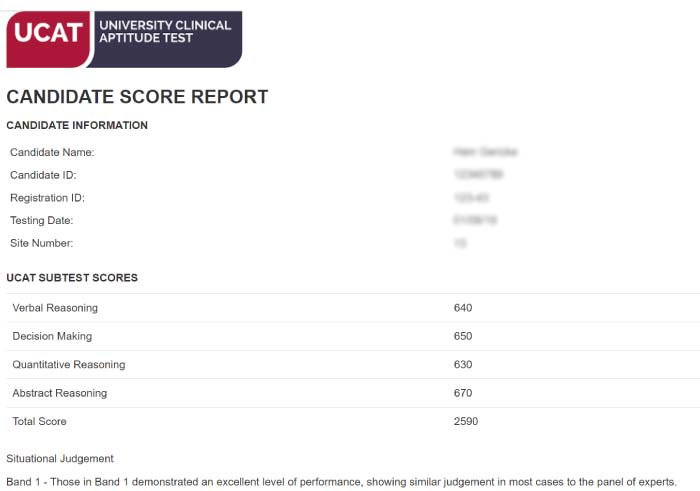 Each year you may only sit the UCAT test once. Check the UCAT Frequently Asked Questions eligibility section to ensure eligibility.
Students are permitted to sit the UCAT across multiple consecutive years with no penalty against them. Note additional payments will be required for each exam resit. The same Pearson Vue account should be used when creating an account.
Prospective medical students must be committed, motivated and hardworking. Apply this tenacity to your UCAT preparation to become a high-scoring candidate. We also suggest you ensure you are aware of bookings/ registration deadlines and administrative requirements.
Good luck with the test, and with the rest of your application to medicine!